Come Advertise with RussianTown Magazine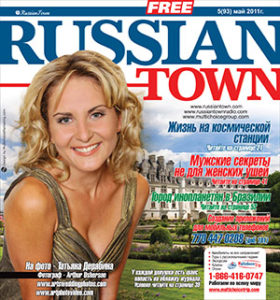 The Russian-speaking population of Atlanta should be a component of your marketing plan. If it isn't, it is time to make a change!
Why focus on the Russian consumer? Russian-speaking consumers have disposable capital just like everyone else in Atlanta. In many cases they have more of this income as they often earn salaries higher than the norm in Atlanta. However, companies fail to market to Russian-speaking people in Atlanta. By doing this they are missing out on a consumer base that is dependable and loyal to good businesses. Therefore, if you give this community the products and services it desires, it will continue to do business with you. RussianTown Magazine links businesses directly with the Russian-speaking people all over the metro Atlanta and we are read throughout the state of Georgia. Our publication is free so we reach Russians from all areas of the city and from different income levels. Therefore, our magazine provides businesses with a new customer base while also benefiting Russian people with new products and services as well as job opportunities. By using RussianTown, you instantly have over 75,000 Russian people throughout Atlanta at your fingertips. It is up to you to get your advertising message into our magazine and turn these potential customers into sales!
Yes, it's free. You heard right – consumers do not have to pay for RussianTown Magazine. We distribute our publication to over 20 Russian stores in Atlanta, along with placing them at businesses that include law firms and real estate offices, medical facilities, and higher learning institutions among others. RussianTown is often found at many other locations in Atlanta so your ad will reach thousands more throughout the metro area, which will only help your sales grow. When we gain a new reader, you gain a new potential customer that is now seeing your advertising message. Your competitors are not marking to the Russian people in Atlanta and Georgia so your sales increase while their will stay stagnant, allowing you to capture a larger market share and become more profitable.
While our printed magazine is seen by thousands, there are even more consumers viewing our client's ads in our online portal at www.RussianTown.com. The Internet has made it possible for more people to see our magazine and your advertising, which lets them easily refer you to family and friends that they know. You can also use your phone or tablet to quickly show your ad to someone that is interested in the product or services that you offer. RussianTown has archived every print edition as a PDF file so we can literally prove how long we've been around!
If you are wondering why you have not called us yet, then we should tell you that we are wondering why too! Thousands of readers view RussianTown.com daily while many Russian consumers read our print edition on a regular basis. If you are ready to put your advertising in front of over 55,000 Russian consumers, come advertise with RussianTown Magazine and we can grow together!