Ad Agencies: Bring your clients to RussianTown!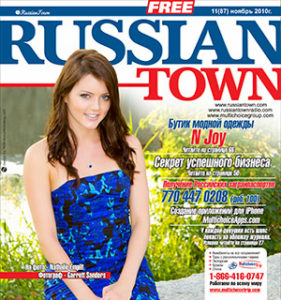 You may be an agency looking for effective ways to get your clients noticed. Well, look no further – RussianTown Magazine can put your clients in front of thousands of Russian-speaking consumers in Atlanta and Georgia!
At RussianTown we understand how important our magazine is to the Russian community in Atlanta. We want businesses to also know how they can become of importance to this community. You can bring your advertising vision to us and we will transform it into a message that our Russian consumers will love to see and hear.
You may be worried about not knowing the Russian language and that is fine because we have experienced interpreters on our RussianTown staff that specialize in translating your advertising message while keeping the content intact. Our staff understands the Russian consumers and what they want to see, and this allows them to use their unique expertise to broadcast your message to many potential customers that want to bring you their business. RussianTown wants to bridge the gap between eager Russian consumers and business that want to reach them. Our Russian newspaper and magazine in Atlanta has been doing this for years and we want to continue to use our resources to help your business and the Russian community grow.
RussianTown created a great commission system to encourage advertising agencies and marketing firms to come work with us. Call us and we'll tell you all about it!