Russians and Atlanta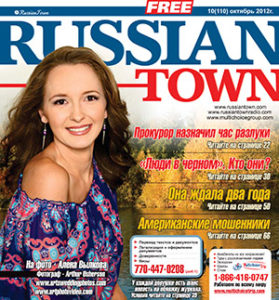 Atlanta has had a growing Russian population since the first wave of Russian immigrants completed their journey to the city. Metro Atlanta has embraced Russian families in Georgia and many citizens from Russia migrate to the city each month.
What brings people to Atlanta? From companies relocating their headquarters here to people liking the mild climate, Atlanta has many positives that bring people here on a daily basis. Some people have come to the city to attend the prestigious higher learning institutions that Atlanta is home to while others came simply because they had friends or family move to the city. Many families relocate to Atlanta to raise their children and take advantage of the great school systems. Large enterprises such as Coca Cola, Home Depot, and Bank of America have brought thousands of people to Atlanta for great jobs. Combine plentiful job opportunities with institutions such as Georgia State University, Georgia Tech and the Atlanta University Center that is home to historically black colleges such as Morehouse and Spelman, and you have many reasons why people choose Atlanta as their new home.
Many Russian citizens marry and then come to Atlanta to start their families. Some obtained their green cards via the Diversity Visa Lottery while others have the Visa O-1. Those that are in the city on visas often come to Atlanta to work in the fields of medicine, education, science, or art.
Some of the highest paid residents in the United States are Russian-speaking people. More than half of the Russian families living in the U.S. earn an average annual income of $55,000 or more. These Russian families in Atlanta and Georgia look for ways to make their transition to the new culture easier. One way that they do this is by reading publications such as RussianTown Magazine that are geared for the Russian community.
People in the United States understand and value hard work. Russian-speaking people understand this concept as much as anyone else. There are many Russian people that hold prominent positions in large organizations all over the metro Atlanta area. They also form and maintain excellent medical practices and real estate firms, along with many other types of thriving businesses. Networking is a large part of their success, and RussianTown Magazine has helped thousands of consumers and businesses do just that. Russian-speaking people in Atlanta desired an avenue to reach businesses that wanted to serve the Russian community. This is how RussianTown Magazine was born back in 2003. After growing into a publication that now has access to over 60,000 Russian-speaking consumers from the metro Atlanta area and even more people throughout the state of Georgia, we are glad to be the link between the Russian community and great businesses that want to reach them.